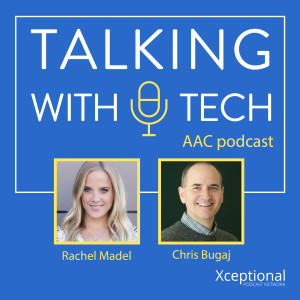 Wednesday May 06, 2020
Tara Wineinger: Hosting a "Virtual 5k" to Support an AAC Nonprofit
This week, Tara Wineinger and Rachel discuss Sophie's Run (runsophies5k.com), a "virtual 5k" that supports decreasing the amount of time students wait for AAC devices and to assist communication partners with training in the Kansas City area. Tara shares about building awareness for AAC, the services they have been able to provide, and ideas for how you can bring fundraising like this to your school district.
Before the interview, Chris and his wife Melissa talk about how the school closures have changed their personal and professional lives. They discuss how "eduspeak" can be overwhelming to some parents, how getting emails from multiple teachers for multiple kids can be a lot to manage, and why we need to have a lot of compassion and empathy for each other in these times. 
Key Ideas This Week:
🔑 If possible, educators and therapists should focus on helping students to understand academic content and apply it to their lives (e.g., graphic organizers, reflective coaching, solving authentic problems.) rather than just providing content.
🔑 Having teachers and therapists meet as a team with AAC users and their parents to support AAC implementation and provide resources can help promote language development during school closure.
🔑 Co-Vidspeak (covidspeak.org) is a free open source, web-based video conferencing tool built for people who can't speak but still need to connect with others.
Double Time Docs helps you write your pediatric SLP, OT, and PT evaluation reports in a fraction of the time. SIgn up for a free 30 day trial at doubletimedocs.com and use promo code TWT2020 for to get 1 free Doc credit! 
Help us develop new content and keep the podcast going strong! Support our podcast at patreon.com/talkingwithtech!
Visit bit.ly/twtpod for access to previous episodes, resources, and CEU credits that you can earn for listening to TWT episodes!
Comments
(0)
To leave or reply to comments, please download free Podbean or