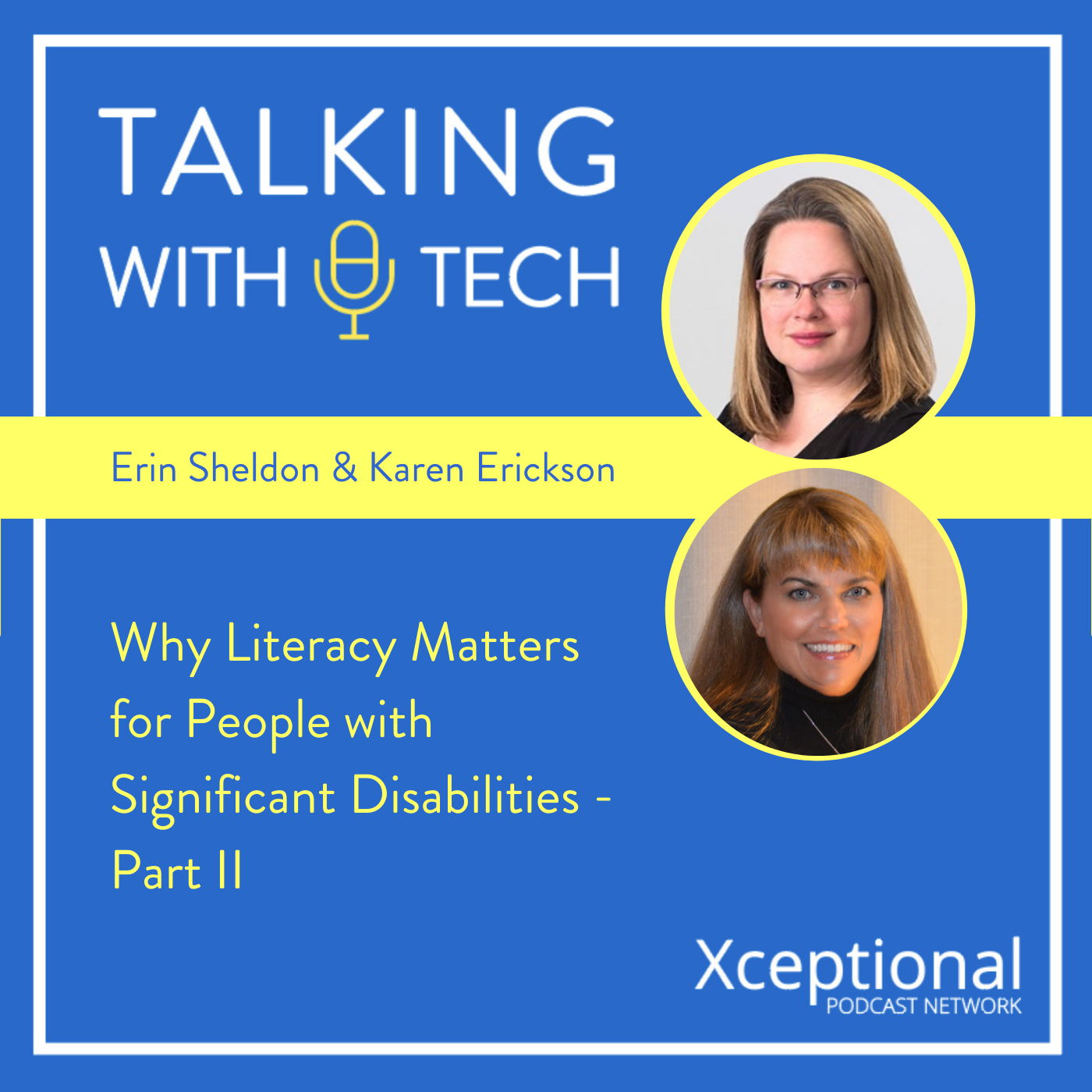 This week, we share Part II of Erin Sheldon's interview with Karen Erickson! In this fascinating second half, Erin and Karen talk about emergent vs conventional literacy, and four indicators that maximize the likelihood of success with conventional literacy instruction (e.g., phonics, decoding, spelling):
Does this child know most of the letters most of the time?
Does the child have a means of communication and interaction?
Are they interested and engaged during shared reading (when not given a reinforcer)?
Is there an understanding that writing is about letters and words?
Erin and Karen also discuss the benefits of inclusion for everyone in the classroom, and why Project Core is a universal, Tier 1 solution for teaching symbol-based communication. 
Before the interview, Rachel and Chris discuss one of Rachel's clients whose family had no idea that the client had the ability to read and write. Rachel and Chris talk about the importance of doing foundational assessments to see what clients know, why incorporating books into therapy is so important, and the benefits of bringing in a reading specialist. They also touch upon dealing with a family who feels guilt that they did not understand how to help their child sooner.
Key ideas this week:
🔑 It's important to let your client pick what to read in therapy. If we are to develop a love for reading, it's better with a book that interests them. Epic books is one way to search for interesting books (and it's free for educators).
🔑 If we say a student "isn't ready yet" for high-tech AAC, there needs to be a plan for how we will get there. If we only provide low-tech supports with no core words, there may be no pathway to robust AAC. 
🔑 If we are trialing a device with someone who has never learned core words, we can't expect them to use their device right away.  If we teach core words to everyone with complex communication needs with or without a device, they are better prepared to use a device at a later point. 
Help us develop new content and keep the podcast going strong! Support our podcast at patreon.com/talkingwithtech!
Visit talkingwithtech.org to access previous episodes, resources, and CEU credits that you can earn for listening to TWT episodes!