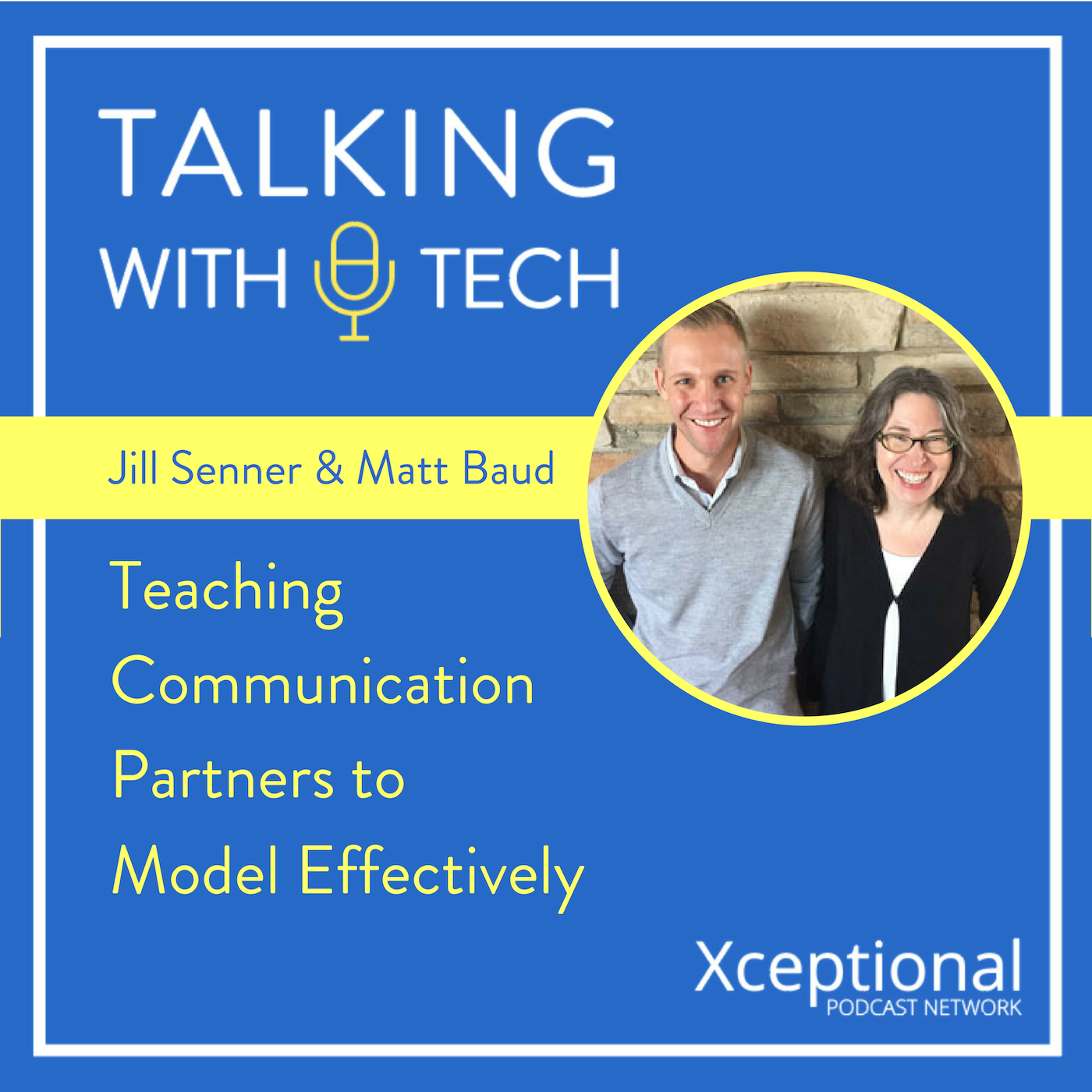 This week, Talking with Tech is joined by Dr. Jill Senner and Matt Baud! Jill and Matt are AAC experts who promote an evidence-based, systematic method for coaching communication partners how to implement AAC through partner-augmented input (PAI). Before the interview, Rachel and Chris discuss why training and coaching communication partners should be thought of as an ongoing process rather than something that happens once or twice in a "training."  Rachel and Chris also talk about why it is important to try and follow evidence-based principles when coaching communication partners and implementing AAC, even if we may not be able to meet that goal all of the time.
Following this discussion, Rachel and Chris interview Jill and Matt about teaching communication partners to model effectively, how they came to become interested in partner-augmented input, and lessons they have learned coaching communication partners in a systematic way.  Their process is based on Kent‐Walsh & McNaughton's (2005) 8-step process for communication partner instruction, which includes 1) pretest, 2) strategy description, 3) strategy demonstration, 4) SMoRRES (slow rate, model, respect & reflect, repeat, expand, stop), 5) controlled practice & feedback, 6) stepping back, 7) post-testing, and 8) generalization. Jill and Matt explain why generalization can be achieved effectively using this 8-step process, why this process takes less time than you would assume, and strategies for training family members to provide PAI on a consistent basis. Finally, Jill and Matt share some strategies for integrating their 8-step communication partner process into a variety of settings at home and in the community!
Dr. Jill Senner (@JillESenner on Twitter) is a speech-language pathologist, AAC specialist, AAC educator, and owner of the Technology and Language Center! You can find paid and free resources discussing PAI and other topics at her site, talcaac.com!
Matt (@Mbaud12 on Twitter) is an AAC coach, educator, trainer, practice owner, and the AT Coordinator for Niles Township District for Special Education. He is also an adjunct AAC instructor at Saint Xavier University.
We want to know what you think! Join us on Facebook at Talking with Tech and on Twitter and Instagram (@talkingwithtech). Also, please subscribe and post a review on iTunes - it helps others to find us!