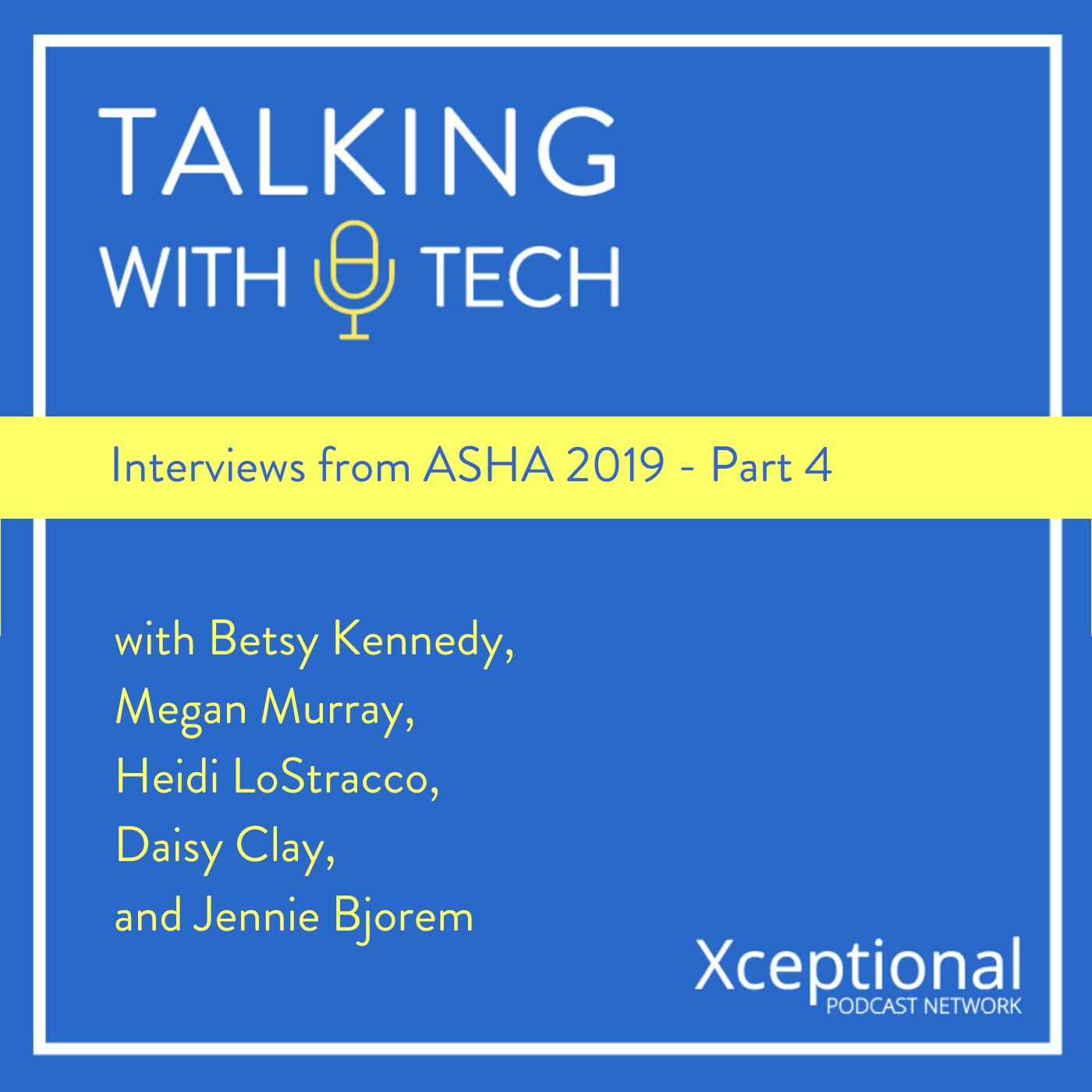 We need your help to keep Talking with Tech going strong! If you are a loyal listener, please support our podcast at patreon.com/talkingwithtech.
TWT presents the last, but not least, collection of interviews by Rachel recorded at ASHA 2019! Before the interviews, Rachel and Chris talk about some gems from Chris's upcoming presentations at FETC about inclusive design, flexible learning spaces, and teaching through coding with robots. They also chat about ATIA, where Chris will be doing a pre-conference on writing, an "AT Feud" Family Feud style game, an assistive technology strategy "smackdown" session, and more! Afterwards, we hear from our interviews:
🔑Betsy Kennedy and Megan Murray talk about their poster session about how students learn with a consistent core word system across classrooms. They found that two core words a month, with a different focus each of the two weeks covering the same word, was more successful that focusing on one word each week or one word in a month.
🔑Heidi LoStracco shares about Speak for Yourself and their new "Smart Search" feature that remembers the words that have been searched but were not on the system and allows you to quickly add those words later when editing.
🔑Daisy Clay, the author of "Super Core" for the AAC system "SmartBox" shares about how the research behind Super Core, and how it provides both a static set of core words and a dynamic set of context- or activity-specific words on the right.
🔑 Jennie Bjorem, an expert on Childhood Apraxia of Speech, talks with Rachel about helping children with CAS, red flags for making a diagnosis of CAS (e.g. inconsistent errors, consonant & vowel distortions, intrusive schwa, difficulty with multisyllabic words, prosody issues, slow rate), becoming more comfortable with making a CAS diagnosis as an SLP, and more!
If you haven't gotten a chance to read it yet, check out Chris's amazing book on assistive tech, "The New Assistive Tech: Make Learning Awesome for All"!
Visit bit.ly/twtpod for access to previous episodes, resources, and CEU credits that you can earn for listening to TWT episodes!