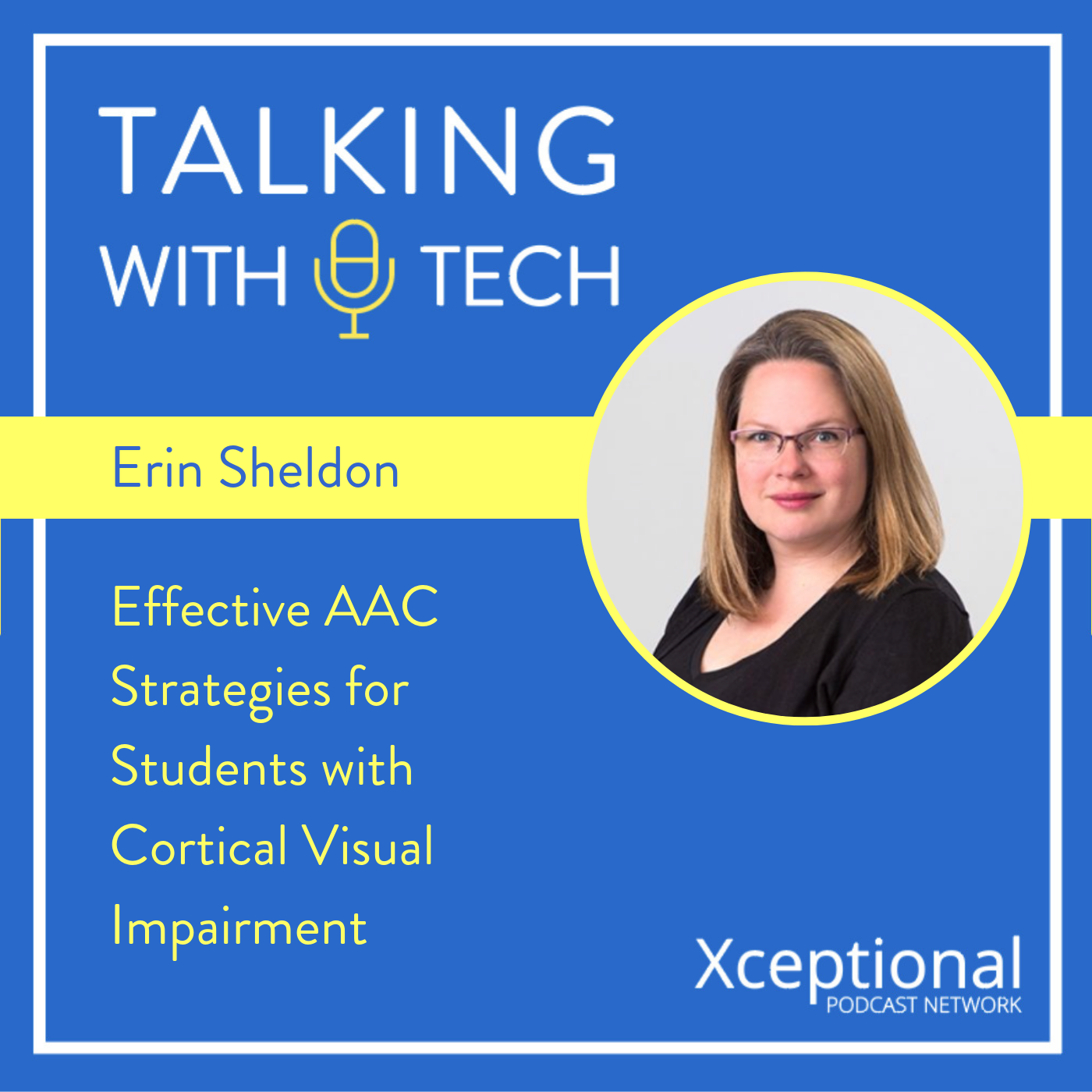 This week, the TWT team interviews Erin Sheldon, literacy and language development specialist for AssistiveWare and school inclusion consultant! Erin shares from her experiences working with visually-impaired AAC users, both professionally and as the parent of a teenager diagnosed with autism and Angelman Syndrome.
Before the interview, Rachel and Chris discuss some of their experiences with visual impairments and AAC, including teaching a student with CVI to communicate with visual & auditory scanning, using high-contrast images on AAC, teaching literacy using braille stickers, and the importance of AAC modeling with visually-impaired students!
Next, Erin shares about her daughter's CVI, an impairment of the brain's ability to process visual information. She discusses how they have taught her daughter to use a modified PODD system, and why it has been important that they have always presumed competence.  Erin also shares about:
1. Why we "can't hold a student's language hostage to their vision" when implementing AAC.
2. Why moving to AAC more quickly can be very beneficial to language development, because children with CVI may understand symbols better than photographs.
3. What partner assisted scanning is, why it is so important for some users, and how it can help build a language foundation faster than when communication is only verbal.
4. What verbal referencing is, and why verbalizing what you understood from a person's behavior can help improve language development.
5. Why making grids with too few icons OR too many icons can cause students with CVI to plateau.
6. Why we need to look what someone with can access, not just what he or she can see.
7. How to take advantage of colors that are easier to visually identify for some people with CVI, and how mentioning coloring during modeling can help the child connect the color and the icon.
8. How visually-distinct, high-contrast symbols can be effective for students with CVI.
9. Why maintaining the motor plan and icon location is so important for AAC users with CVI.
We want to know what you think! You can connect with us at our Facebook group Talking with Tech, on Twitter, and Instagram (@talkingwithtech)! Also, please subscribe and post a review for us on iTunes- it helps others to find us!
For more links, information, and resources from this episode, visit our podcast page at bit.ly/twtpodcast