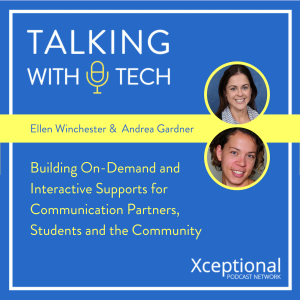 Monday May 14, 2018
Ellen Winchester & Andrea Gardner: Building On Demand and Interactive Supports for Communication Partners, Students, and the Community
This week the team discusses community accommodations for students with Autism Spectrum Disorder, focusing on specific opportunities that already exist and ideas for more sensory-friendly events as well as community-based communication opportunities. Then, Chris speaks with Ellen Winchester and Andrea Gardner about community-based communication opportunities, interactive supports for communication partners, and more! 
***
Andrea Garner is a practitioner and researcher specializing in the education of people on the autism spectrum. She has been working with young people on the spectrum for the last 17 years as a class teacher, an in-home ABA therapist, and therapeutic outdoor educator.  Andrea has continued to study while working and has completed a Master of Education in Autism and a PhD.  Her research interests include social-sexual development, inclusion into work environments, social cognitive development, and family support.  She currently works directly with children, their families, and with teachers developing programs and strategies to improve long-term outcomes for young people on the spectrum.  Andrea is currently working towards accreditation as a Multi-sensory Language teacher and is involved in ongoing research in the assessment and delivery of social skills programs, training models for parents of children on the spectrum and a project to create an Autism Friendly Community.
***
Ellen Winchester is a Speech Pathologist who has worked for Aspect for the last 9 years in various roles in Early Intervention in various settings (schools, home, preschools and group therapy programs) as well as being part of a Learning Support Team in Aspect's schools for children with Autism. She is currently the Service Coordinator for the Aspect Therapy team in the Illawarra region of NSW.
Ellen has a particular interest in the areas of feeding difficulties in children with Autism and also Augmentative and Alternative Communication (AAC). In 2013, Ellen was awarded the Elizabeth Hoyle's fellowship which gave her the opportunity to begin to conduct research into supporting teachers to implement high-tech AAC into the classroom, and increase the effective use of high-tech AAC (with a focus on the use of Core Vocabulary and the Language Acquisition Motor Planning –LAMP approach) into the daily classroom routine of students who required it. Ellen is a certified LAMP Therapist and trainer.  
Ellen's current focus is to support teachers at South Coast School to conduct accurate communication assessments for students with complex communication needs who use AAC, and using these assessments to directly inform intervention planning and classroom programming.
Comments
(0)
To leave or reply to comments, please download free Podbean or