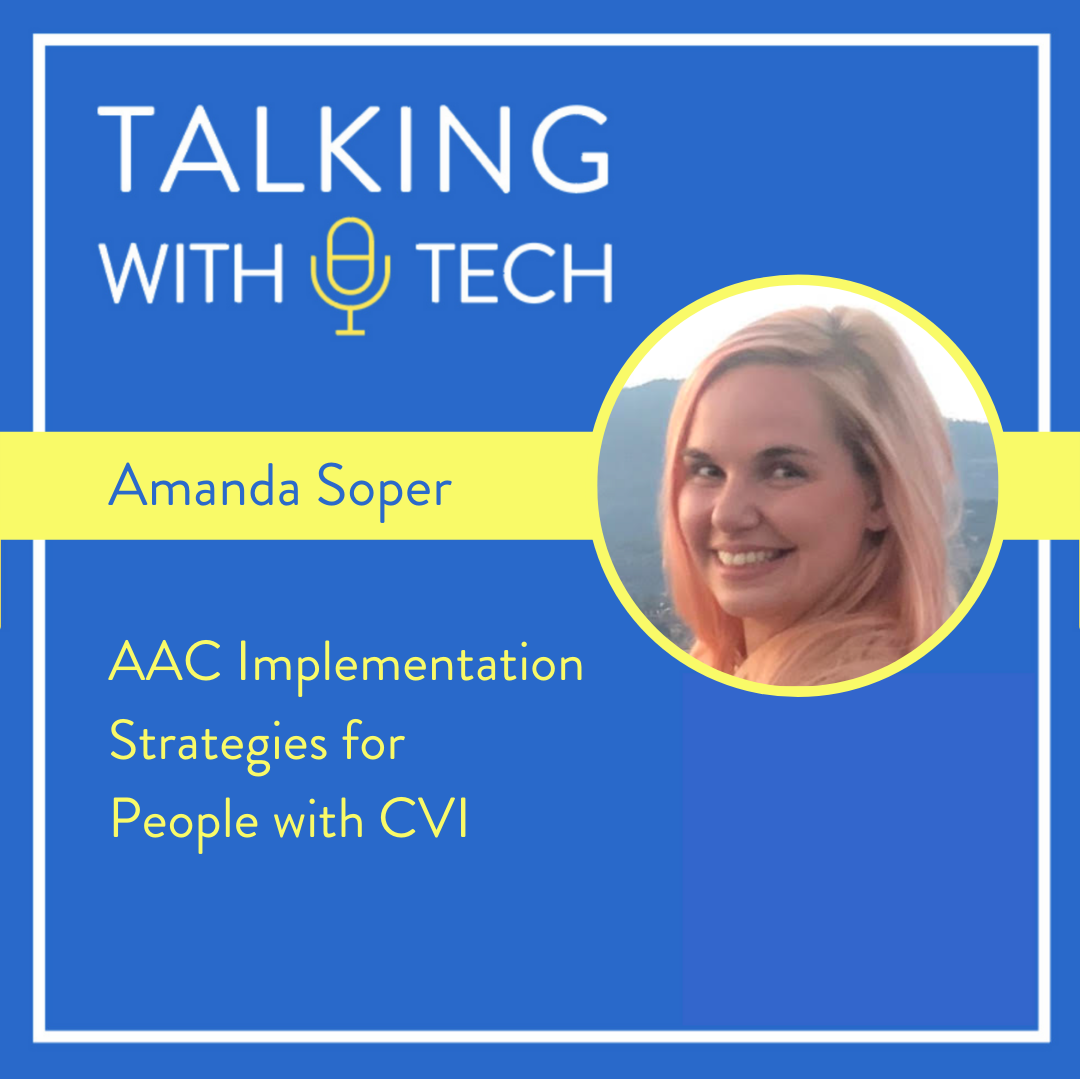 This week, Rachel interviews Amanda Soper, AT Specialist, SLP, and Professor at Gallaudet University. She supports, among others, people with cortical visual impairment (CVI) who also use AAC. Amanda shares from her experiences working with CVI, including: how she teaches vocabulary, the importance of reducing visual complexity in the environment, talking through navigation, and the three main red flags for CVI:
You notice there is something not quite right about a child's functional vision. There is nothing structurally wrong with their eye, but they are having vision problems.
There is a medical history of neurological conditions, such as a lack of oxygen to the brain, or chromosomal disorders.
10 visual behaviors that characterize a person with CVI's vision, including: need for movement, color preference, visual field deficits, absence of visually-guided reach, and difficulty with visual complexity.
Learn more about Amanda's strategies at http://www.aacreatively.com/. You can email her at amandasoperslp@gmail.com
Key ideas this week: 
🔑  Pull students out of class when introducing a new device or a new overlay, because the complexity of the class environment can make it more difficult to understand the new symbols.
🔑  When using AAC with someone who has CVI, you can talk through the navigation when you are introducing new vocabulary to help them track and follow. ("press the red apple, then the blue man")
🔑  Try and teach AAC vocabulary to a person with CVI in context, like working on "fork" during eating time.
Help us develop new content and keep the podcast going strong! Support our podcast at patreon.com/talkingwithtech!
Visit talkingwithtech.org to access previous episodes, resources, and CEU credits that you can earn for listening to TWT episodes!